1st Silk Mane & Tail Conditioner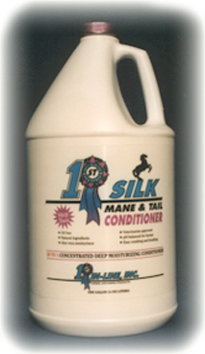 This concentrated, oil-free conditioner is made from the highest quality cosmetic ingredients, including aloe vera, nature's moisturizer. Because of aloe vera's molecular structure, it will adhere to the skin and moisturize the animal's hair. This means that even after rinsing, moisture is still present. Anti-static agents and detanglers have been incorporated into the formula to assure you that the coat will lie as nature intended. A special hydrolyzed protein allows the coat to literally sparkle. Because there are no oils, this is an excellent leave-on conditioner. Guar has also been added to further aid in the softness and pliability of the skin.
See our grooming tips page to learn how best to use our products.
16 oz bottle, 10:1 concentrate, is $12.99
Gallon bottle, a 30:1 concentrate, is $39.99
Prices do not include shipping. Please see our ordering page for shipping rates.