1st Impressions Shampoo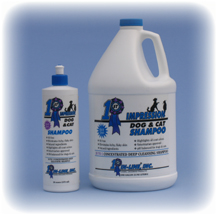 This concentrated, oil-free shampoo form a rich meringue like lather. The formula, made from the highest quality cosmetic ingredients, is designed to clean the animal's coat and skin, and to rinse out squeaky clean. Build-up of any kind is eliminated, and this translates to a residue-free animal. The shampoo contains a chamomile extract, a natural optical brightener, which enhances all colors including white. Groomers get dry and bleeding hands from constant bathing using other products. They have been delighted that 1st In Line has gone that extra step to help eliminate their problem by adding guar, also a natural ingredient, to aid in keeping their skin as well as the animal soft, smooth and pliable. Guar also helps eliminate itching and flaking dandruff in animals.
Please remember, oils in shampoo, can attract dirt which collects bacteria, and can eventually lead to dry, itchy skin and other related problems.
See our grooming tips page to learn how best to use our products.
16 oz bottle, 10:1 concentrate, is $12.99
Gallon bottle, a 30:1 concentrate, is $39.99
Prices do not include shipping. Please see our ordering page for shipping rates.