What Motivated the Start of 1st In Line and Who We Are
Working for another shampoo company in the early 90s, Judy Davis listened and learned what the breeders, exhibitors, handlers and groomers were wanting in their grooming products.
In 1995, when that shampoo company didn't need her services anymore and wasn't interested in doing anything different, she joined forces with a chemist who had a PHD in organic chemistry from Cornell University. Her requests to the chemist were simple:
A shampoo (1st Impression) that rinsed clean and pure without leaving a residue.

A conditioner (1st Satin) that was a moisturizer, not an oil.

One of a kind whitening (1st Snow White).

A color enhancer (1st True).

A finishing spray (1st Glance).

All the sprays would leave no build-up or residue.

Products could be used daily without damaging the coat or skin.
1st In-Line was then founded in 1996.
To promote products she created the "Dog Wash" and "Horse Wash" booths at national events. After seeing the top winning dogs of the Westminster Dog Show had no place to go to do their natural functions of bathing and exercising, the Green Room Salon & Spa was created in 2000.
The spa was located in the lower level of the Hotel Pennsylvania, in conjunction with the Westminster Dog Show. Judy was an active part of the Spa for 15 years.
Learning from the Dog Washes at National events and from the Salon and Spa, she listened to those who attended and learned their secrets on how to make an animal's coat look like a champion. From this experience, she was able to write all of her Grooming Tips to aid others in achieving their goals in correcting a dull coat, dandruff, itchy skin and stains. She is always available to help others improve and maintain their animals' coats!
Judy's passion has always been in giving back and the love of the animal industry.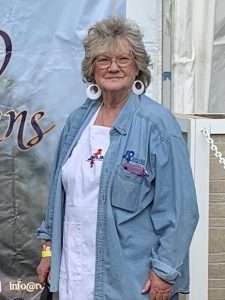 JUDY DAVIS
Founder & Co-Owner 
Judy is the creator of 1st In-Line, Animal Grooming Products.  1st In-Line was developed in response to her friends in the animal industry. They asked if she could resolve the serious problems, in the inappropriate and archaic chemistries being used in animal grooming products. Drawing on her knowledge as a winner of dog show competitions and her extensive work in the pet grooming industry she created an animal-specific product line. The products sales potential were pre-tested through one-on-one interaction with a wide variety of dog and horse show participants, as well as, professional groomers.
Judy started 1st In-Line with, at the time, over 25 years of promotional, marketing and sales experience with an extensive background in business, accounting, printing and media coverage. She is know for her service in the community as an event coordinator specialist and has received the highest award given from the service organization International Lions Club "The Melvin Jones Award". She is currently the Chair Person in charge of the 2022 Samoyed Club of America National Speciality.
BARBARA M. SAWRIE
Co-Owner
Barbara comes to 1st In-Line after a career in the financial services industry.  As well as working in the finacial service industry, Barbara has been the owner of two small business in her home state of Arkansas. When her 4 children grew and started high school, Barbara wanted to go back to what she loved, running a business.
As Judy & Barbara's paths crossed, through the show dog world,  it soon became evident that they would make a great team. Barbara joined 1st In-Line as a co-owner in early 2020, bring with her all her business experince from the last 35 years.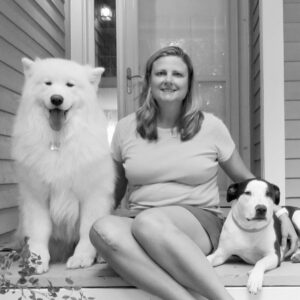 Dr. Ron Schneider
Dr. Schneider graduated from Stanford University and received his PhD in organic chemistry from Cornell University. He was a senior research chemist at Chevron Research for eighteen years specializing in exploratory research, he developed completely original products to meet specific needs, and tested them in single blind and double blind experiments.
Mr. Schneider was also one of the co-founders of 1st In-Line. He brought a wealth of environmental concerns into the animal-grooming field. Together with Ms. Davis, this resulted in a selection of products for 1st In-Line that are not only beneficial to the animals' skin and hair but are biodegradable and safe for the environment. Dr. Scheider has since passed.